Uk's Leading Independent HiTi Reseller
Our commitment to the successful selling of HiTi products is officially recognised by the manufacturer Hi-Touch.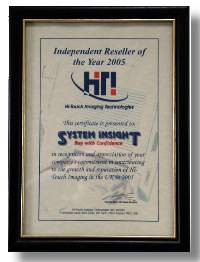 "System Insight are the UK's Leading Independent Reseller
of Hi Touch Printers" - Source Hi-Touch Uk
It's official ! - System Insight are very pleased that Hi-Touch Technologies have announced that System Insight are the UK's leading Independent Reseller of Hi-Touch Printers!
What this means for you the customer.
In Depth knowledge of the whole range of HiTi Photo Printers ensures; we can help you decide which model is right for you. We will give you an un-biased view of what we think about the products.


7 Day try it at Home Option, so that you can be sure you have the right product for you. - Full details here


18 Months Warranty - HiTi Printers usually come with a 12 Month warranty. We extend this to an 18 months HiTi warranty (not an insurance based scheme), on all HiTi Printers purchased from us.


Large Stocks ensuring same day despatch. Unlike some companies that don't hold any stock and order from the manufacturer when the customer orders, we hold vast stocks of all Hi-Touch Products so that we can offer immediate despatch and next day delivery.

Free sample photos. We'll even print your own photos as a sample image - Full Details here


Free Lifetime Technical Support to our customers.


Approved by Trading Standards!- Full Details here


Established in 1991, selling via the internet since 1998!


We are a customer led business, just one standard phone number will get you straight through to us, no automated phone system or different number for after-sales service.

A few of the many comments made by our customers:

Great sales and after care service also from the people at system insight. Would highly recommend.


Rare to find a company that does offer post sale support of any sort these days let alone the lengths Stuart and his team have gone to. Buy this from System Insight they care and know what they are talking about and they phone you back!!!!!!!!.


I thoroughly recommend System Insight for Event Photography solutions.


More customer comments available here