How to Install and use your ICC Profile - General
General instructions on how to use your ICC Colour Profile.


After you have received your colour profile, you will need to install it on your PC.
Apple Mac Users installing ICC Colour Profiles use this link
You should put the files supplied into the following directory: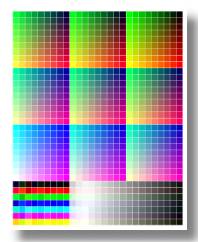 C:\WINDOWS\system32\spool\drivers\color
Once the files have been copied into this directory, then you need to tell the printer driver to use these profiles. To do this follow these simple steps:
Click Start then Printers and Faxes

Right click on your printer and choose Properties

Click on Color Management

Click on Add

Select the Profile Name

Select Manual

Select Apply
The instructions for installing a Profile on an Apple Mac are different and we advise that you contact us for full details.
Things to Note
If you are trying to install profiles for a Mitsubishi 9550DW it is important to note that this printer has two printing modes, (Fine and Superfine), and we supply two profiles for this printer. You must ensure that you are using the Fine profile for Fine mode printing and the Superfine profile for Superfine printing. Some printing software packages will allow you to make these changes on the fly in the program you are using but may not save your choice. The above method of changing the profile in the driver will save your changes until you decide to change them later.
ICC Profiles are provided free of charge when you purchase a printer from us.