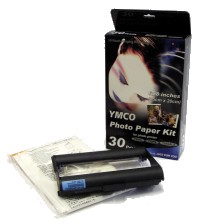 Fixed Cost of Printing Photos
One of the main advantages of Dye Sublimation for the Photographer is the ability to calculate the exact cost per print in advance. This can help when constructing a business plan.

Print consumables are available in fixed pack sizes and contain everything you need. Depending upon the media size and manufacturer, you can purchase a 30, 50 or 60 sheet media pack.
Quite simply the cost of the print is the total cost of the media pack divided by the number of images it will print! This enables you the Photographer, to calculate your exact profit on each photo printed.
This is not the case with Inkjet printers, where you are always unsure on how many prints you will get before an Inkjet Cartridge runs out. With Dye Sublimation Photo Printers you know in advance, how many images the consumables will print and at what cost.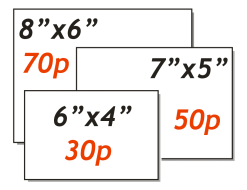 Approximate cost of printing a photo on a Hi-Ti Photo Printer. Prices shown exclude VAT
At first it may seem that the best route is to purchase the printer which prints the largest image; this is often not the most cost effective route or the easiest solution. Printing one or even two 8x6 images on Kodak 1400 8.5"x14" paper, is still more expensive than a single 8"x6" using a Hi-Ti 730 Series Printer. The Hi-Ti on the other hand only prints to a maximum of 8"x6". Printer / Print Sizes information. The Hi-Ti 730PS will print borderless prints that don't require any trimming, whereas the Kodak 1400 or Mitsubishi CP3020DE will require some trimming to produce a borderless 10x8 or 12x8 photo.
All prices shown are Manufacturers Retail Prices without VAT.
Correct as at Feb 06 - Discounts maybe available for Quantity - Refer to notes below

6x4

7x5

8x6

9x6

10x8

12x8

Hi-Ti 730

30p

50p

70p

-

-

-

Kodak 1400

CP3020

£1.36

Olympus P-440

-

CP9550

11p

33p

40p

40p

-

-

Kodak 6850

25p

51p

51p

-

-

-
Note:
Prices in Red indicate that multiple images must be printed onto a larger sheet, so image cost is a %age of page cost. e.g. 2 * 6x8's on a Kodak 1400 require one 12x8 be printed. You will need to print the correct number of prints per page to achieve the costs shown.
Prices in Blue indicate that the print will be borderless and will require trimming
Kodak 6850 require a 7x5 conversion kit to print borderless 7x5 prints. Olympus P440 prints slightly smaller than 10x8 prints. Approx 10 x 7.95 inches
Many Photographers who wish to print a wide variety of sizes, purchase two printers to do the job. Though this may result in some redundancy, you have an immediate replacement should the worst happen, but most of all, it also gives complete flexibility, while balancing the costs.
At first this may seem an expensive option, even given the fact that you would need to print quite a few photos for this to be a required option, the profit made on each print would be considerable, and the payback time very quick indeed - sometimes even after your very first event.

By using both printers (730PS & Kodak 1400) I can quickly and easily print any size up to 8"x12" which is ideal for my weddings. - Dave Sanders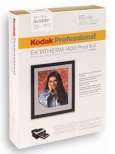 Everything you need in one box
Most Dye Sublimation manufacturers include both items (Ribbon & paper) in one media pack - this is all you need to print your photos. Some manufacturers sell these items separately though, but you still only need two consumables: The Dye Sub Ribbon and the special Dye Sub paper .
Unlike an Inkjet Printer, you are able to set the dye sub printer, to print a definite number of images, and know that every print will be perfect. How many times have you returned to an Inkjet Photo Printer to discover the first few prints were fine, but subsequent prints lacked one colour and the rest of the prints were ruined - a waste of ink, paper, time & money!
View Photographers who are being featured for free

Download Price List for Dye Sublimation Printers & Consumables

Folders and Mounts for your Photos

Lightsphere II Flash Diffusers

Event Photography Flight Cases to protect your Mitsubishi Photo Printers

Event Photography Signage for Marketing & On-Site Studio Location

More Event Photography Equipment & Products

Event Photography Training Courses
Good Idea

Want more exposure? - Then get featured on our website for FREE!

25% of the traffic to my website comes from System Insight
Nick Jay of Event Photography South-West.