Folders and Mounts for your Photos
Get the best from your images, display them in a quality photo mount.


Mount & Folder Pricing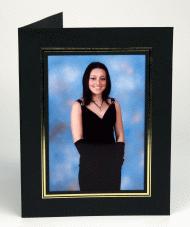 Photo Folders
Folders, as their name depict, are folded pieces of quality card that allow a photo to slide in through a small gap on one edge of the folder. The photo is held securely, with no need for glue or fastenings, as the image is held in place by the mount. The folder can easily be stood up by folding back the front flap.
Our folders are black with a gold border around the image that sets the photo off. They are made from superior quality textured card that gives an impressive look and feel.
Black folders have a particular advantage in that they are suitable for any type of image: Wedding, Portrait, Black Tie event, Equestrian, School Photo etc.
Folders are normally ordered in either portrait or "up" style (shown above) or landscape or "view" format. The most common type are portrait as they can be easily used for either type of image.
Photo Mounts
Strut Mounts are made from a thicker grade of board and have a cutout on the back, which allows them to stand on their own (see below). The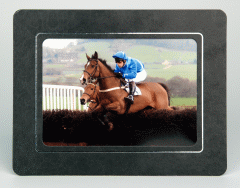 main advantage with a Strut Mount is that a single mount can be used for portrait or landscape images.
Like a folder, the image just slides in through a small gap on one edge of the mount and is held securely. No glue or fastening is required, as the image is held by the mount itself.
Folder Sizes
Mounts and Folders are available in the following sizes 6x4, 7x5, 8x6, 9x6, 10x8 & 12x8. The actual folder size is of course usually about one inch (2.5cm) larger than the image.
Box Quantities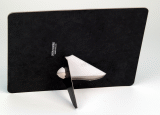 Photo Mounts and Folders are available in boxes of 50 or 100 depending upon image size. Check our on-line shop for full details.



Mount & Folder Pricing

Frames & Stands for Signage