Printing Passport Photos using Photo Desiree
Using Photo Desiree to print Passport Photos from your PC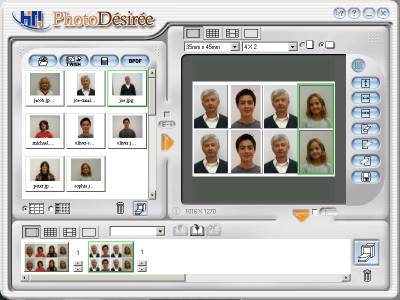 How do I use the Photo Desiree software to make Passport photos?
Easier than you think! Find the images you would like to use and load them into Photo Desiree as you would normally do to print standard photos.

As illustrated in the Diagram below,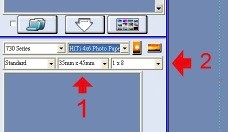 select drop down list (1) to choose how big you want your pictures to be, (in this case 35mm x 45mm, the standard size for UK passport photos). Then select drop down list (2) to determine the different types of pictures you want to print on one piece of photo paper. Example: 1 x 8 will let you select 1 picture and repeat it 8 times, while 8 x 1 will let you select 8 different pictures, (you can drag and drop the pictures you want from the ones you loaded earlier).
Do all the Photos have to be the same?
No. If you use the Photo Desiree software you can mix and match photos as much as you want. For example, If you wanted to print 35mm x 45mm photos, each of the 8 pictures could be different, in pairs, all the same etc. It's up to you.
What size photo paper can I use to do this?
You can only print passport photos onto 6X4 photo paper.

How do I cut out my passport photos?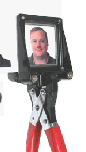 The ideal tool for cutting out your photos is a special ID Cutter. These ID cutters come in two sizes; the 35x45 ID Cutter is for cutting UK passport sized photos, the 2"x2" (50x50) ID Cutter is for cutting USA passport sized photos. You may of course use household scissors.

More Info:

Passport Photos - Overview
Printing Passport Photos - Stand Alone Mode
Printing Passport Photos - Using Photo Desiree
Official Advice on taking Passport Photos Correctly
Passport Photos Printed FREE
HiTi Passport Paper & Ribbon Kit
- Other Useful HiTi Information & Links