Hi-Touch Photo Printers - HiTi 630PL
The entry level photo printer in the range now replaced by the 631PL model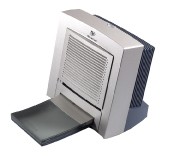 The 630PLhas now been replaced by the 631PL as the entry level photo printer in the range. Quality is every bit as good as the more expensive printers, even the top of the range 730PS prints at the same 300dpi resolution (equiv, to 4800 dpi inkjet printer).

The 6x4 prints are not only borderless but are waterproof, UV and fingerprint resistant, the special paper used is almost tear proof ensuring that your photo quality prints stay that way. Prints can be either Gloss or Matt finish and this can be selected using the easy to use Photo Desiree software. This software can be downloaded here for you to try before purchase if required.
As with all HiTi Photo Printers the quality is superb, with the ability to print 16.77 million true colours, it's no wonder that professional photographers use HiTi photo printers instead of conventional photo labs!
What is missing from the 630PL is the ability to use the printer in stand alone mode. You cannot print direct from your camera memory so you would need a method of getting your pictures from your camera onto your PC. You must have a PC in order to use this printer.
Print Speed while still very respectable is not the fastest in the range with a 6x4 print taking 130 seconds (2 mins 10 seconds) to print. This is still faster than a lot of Inkjet Photo Printers. The HiTi Photoshuttle is the next model up providing an improved print speed of only 45 seconds per print the ability to use the Monochrome KO ribbon and paper and slightly different colour and styling. These three things are the only differences between the 630PL and Photoshuttle.
Although the 630PL does not support the monochrome KO photo kit, it is still possible to print pictures in monochrome using the standard colour ribbon. If you are planning to do lots of monochrome images you may wish to choose the Photoshuttle which fully supports the monochrome KO kit.
A carry case is available as an optional extra if you want to carry your printer around. The unit is compact at 8.6 x 8.3 x 5.5 inches (21.8cm x 21cm x 14cm) and so will fit on even the smallest of desks. The printers only weighs 4.19lbs (1.9kgs) The 630PL is powered from the mains and will operate from 110-240vac 50/60 hz with a typical maximum power consumption of 300 watts when printing, this is much less when in idle mode.
Connection to your PC is via USB cable (supplied).

Print Costs:
30p (inc vat!) per 6x4 print, much cheaper than the High Street Digital Print Booths.
Hi-Touch Consumables (Paper & Ribbon):

600 Series 6x4 - Consumables:
Hi-Touch 6x4 Ribbon & Paper Pack YMCO - 50 Sheets
Hi-Touch 6x4 Ribbon & Paper Pack KO - Monochrome - 75 Sheets (Photoshuttle, 640PS, 640GALA only!)
Hi-Touch 6x4 Sticker Paper 4x4 - 50 Sheets
Hi-Touch 6x4 Sticker Paper 4x2x4 - 50 Sheets
Hi-Touch 6x4 Sticker Paper Combo - 2x25 Sheets
Click here for more details & to buy consumables