HiTi 730PL Photo Printer
Print your own 6x4, 7x5 & 8x6 Photos at Home. This model must be connected to a PC to function. A 730PS without the hand controller!


XXXXX THIS IS A DICONTINUED PRODUCT XXXXX

The HiTi 730PL is basically a 730PS without the controller or memory card slots. This means that the unit cannot be used stand alone and must be connected to a PC or MAC. In all other respects it is the same as a 730PS taking all the same media and using the same software.It is capable of printing three different sizes of prints: 6x4, 7x5 and 8x6 (A5).


The 730PL prints at 300dpi resolution (equiv, to 4800 dpi inkjet printer) and the results are stunning! This model is the choice of many professional photographers that want to print the larger 7x5 and 8x6 sizes.
The 730PL will print a 6x4 photo in only 45 seconds! which is significantly faster than the smaller 630PS which takes 130 seconds (2 mins 10 seconds) to print the same photo. At either print speed this is still faster than a lot of Inkjet Photo Printers.
Although the 730PL does not currently support the monochrome KO photo kit, it is still possible to print pictures in monochrome using the standard colour ribbon.
The 730PL does not supports any digital camera memory as it does not support stand alone printing (unlike the 730PS & 730Gala models).
The photo prints are not only borderless but are waterproof, UV and fingerprint resistant, the special paper used is almost tear proof ensuring that your photo quality prints stay that way. Prints can be either Gloss or Matt finish and this can be selected using the easy to use Photo Desiree software. This software can be downloaded here for you to try before purchase if required.
As with all HiTi Photo Printers the quality is superb, with the ability to print 16.77 million true colours, it's no wonder that some professional photographers use HiTi photo printers instead of conventional photo labs!

When printing different sized images, you will need to change the paper and ribbon. Additional paper trays are available as an option should you wish to keep your different sized paper securely in a tray ready for printing. Changing the ribbon only takes a few seconds making the process quick and easy.

Click Here to view a video (1.78mb) showing how easy it is to change the ribbon.
• A re-sealable bag is provided with each ribbon / paper kit for safe storage.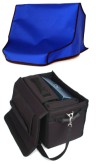 A quality dustcover for the 730 series is now available and will keep your printer looking like new.
A carry case is now available for the 730 Series in response to demand from customers who wish to protect their equipment investment.
Note: The 600 series carry case is not suitable for the 730PS.
The unit is still compact at 13.4.8 x 11 x 8.7 inches (34cm x 28cm x 22cm) and so will fit on even the smallest of desks. The printers only weighs 13.7lbs (6.5kgs) The 730PL is powered from the mains and will operate from 110-240vac 50/60 hz with a typical maximum power consumption of 300 watts when printing, this is much less when in idle mode. An optional 12v inverter is available to allow operation from a 12v source e.g. car or boat
Connection to your PC is via USB cable (supplied) The 730PS is also compatibility with Mac OS X 10.2 or Above (Driver Downloadable)
Intel Pentium PC / Mac PowerPC G3 or Above.



Mac Driver and Installation Details are available here.


Print Costs: 30p (inc vat!) per 6x4 print, 50p per 7x5 print & 70p per 8x6 print, still much cheaper than the High Street Digital Print Booths.

Consumables:
Hi-Touch 6x4 Ribbon & Paper Pack YMCO - 60 Sheets
Hi-Touch 7x5 Ribbon & Paper Pack YMCO - 30 Sheets
Hi-Touch 8x6 Ribbon & Paper Pack YMCO - 30 Sheets

Hi-Touch 6x4 Sticker Paper 1x1 - 60 Sheets
Hi-Touch 6x4 Sticker Paper 4x4 - 60 Sheets
Hi-Touch 6x4 Sticker Paper 4x2x4 - 60 Sheets
Hi-Touch 6x4 Sticker Paper Combo - 2x30 Sheets

Hi-Touch 7x5 Sticker Paper 1x1 - 30 Sheets
Hi-Touch 7x5 Sticker Paper CD Label Kit - 30 Sheets

Hi-Touch 8x6 Sticker Paper 1x1 - 30 Sheets

Event Photography Equipment