HiTi Photo Printers for Professional Photographers
The following HiTi printers are recommended for use by Event or Professional Photographers.


Did you Know?
Worldwide, HiTi Photo Printers are used by over

20,000

Event Photographers and

100,000

Photographic Studios. HiTi Printers have printed over

200,000,000

prints.
HiTi (Hi-Touch Imaging Technologies) are used by many Photographers to print photographs. The 730PS is an DIMA award winning printer and produces superb quality photos straight from the memory card or computer. Colour reproduction is superb and the user comments and reviews are testiment to this. In particular Skin tones print perfectly and explain why these printers are the choice of social, glamour and wedding photographers. In fact with an optional inverter, you can produce photos immediately at the event in your car via the cigarette lighter socket.
All printers in the series will produce the same high quality. Our personal recommended choice for photographers is the 730PS which represents superb value for money and offers the flexibility of stand alone printing and connection to a PC.
All HiTi Models come with 12 months warranty, which is extended to 18 months when purchased from us. We also offer a 7 Day Trial and printer loan scheme.
P710L - Fast Roll Fed Printer

- P710L Roll Fed Printer
HiTi P710L employs roll-type dye-sub photo printing method performing borderless photo printing in multiple sizes with fast printing speed - a 6" x 4" photo print in 6.8 seconds and a 6" x 9" print in 13.2 seconds.
Ask us about our ''FREE Home Trial''.


730 Series - 6"x4", 7"x5" & 8"x6" Prints

HiTi 730PL
The 730PL Photo Printer prints 6x4, 7x5 & 8x6 photos. The 730PL CANNOT be used stand alone and must be connected to a PC. Ideal for the user who does NOT want to print from memory cards in stand alone mode. Ask us about our ''FREE Trial''.


HiTi 730PS
The 730PS Photo Printer prints 6x4, 7x5 & 8x6 photos. The 730PS can be used stand alone without the need of a PC. The 730PS is the ideal photo printer for the serious home user and professional photographer. Ask us about our ''FREE Trial''.

HiTi 730Gala (recommended for specialist professional use only)
The 730Gala Photo Printer also can be used stand alone and allows the user to print "user defined templates" on top of the photos as they are printed. Ideally suited to anyone who requires this specialist facility. Ask us about our ''FREE Trial''.

ID Card & Passport Printer

HiTi BS-iD400
NEW MODEL
The Hi-Touch BS-ID400 Photo Printer is the ultimate 6x4 ID and Passport photo printing solution. Instant photo printing without a computer and the ability to read 6 different types of memory card.
As with all Hi-Touch Photo Printers, this model boasts a total of 16.77 million true colours. Ask us about our ''FREE Trial''.

Business Card & ID Card Printer

HiTi CS-300
HiTi CS-300 is a card printer especially designed to provide a professional yet user friendly card printing solution. With its compact size, HiTi CS-300 can be installed almost anywhere at any time to print high quality cards with just the click of a few buttons.
Ask us about our ''FREE Trial''.
Differences between 730 Models


HiTi Dye Sub Photo Printers Downloads

Hi-Touch Technologies also manufacture a range of smaller photo printer that only print 6"x4" images. Complete range of HiTi Photo printers
The HiTi 730 Series unit is still compact at 13.48 x 11 x 8.7 inches (34cm x 28cm x 22cm) and so will fit on even the smallest of desks. The printer only weighs 13.7lbs (6.5kgs). The 730PL, 730PS & 730Gala are powered from the mains and will operate from 110-240vac 50/60 hz with a typical maximum power consumption of 300 watts when printing, this is much less when in idle mode. An optional 12v inverter is available to allow operation from a 12v source e.g. car or boat.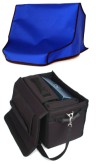 A quality dustcover for the 730 series is now available and will keep your printer looking like new.
A carry case is now available for the 730 Series in response to demand from customers who wish to protect their equipment investment.
Note: The 600 series carry case is not suitable for the 730PS.
Good Idea

Want more exposure? - Then get featured on our website for FREE!

25% of the traffic to my website comes from System Insight
Nick Jay of Event Photography South-West.